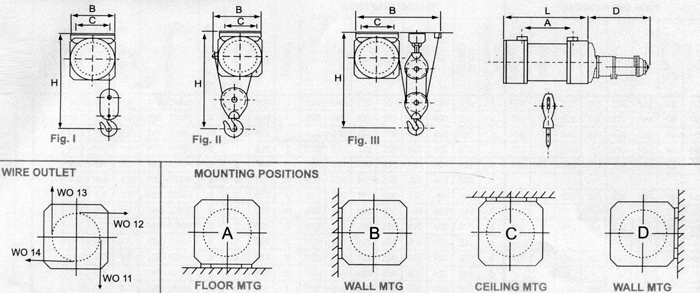 • These are available in all types of mounting e.g. floor mounted, ceiling mounted, wall mounted etc.
• All wire outlets and mounting positions can be together
• They are used for loading and unloading transportation vehicles, through floor hatches or outside the wall, and for serving production machinery. They can be used for any pulling or lifting applications.
• When ordering, please state in what position the hoist is to be mounted and wire outlet (WO) required.

Hoist With Trolley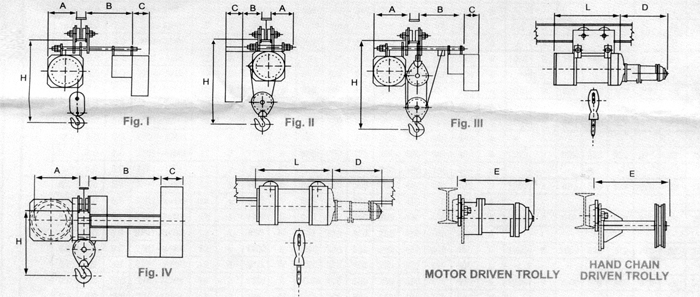 • Hoist can be equipped with trolley for horizontal travelling.
• The trolley is fabricated from components bolted and welded together and carried by travelling wheels supported on ball bearings.
• Push-Pull Trolleys can be used upto 3 Tonne lifting load & height of lift of 3 mtrs. Hand chain driven trollies can be used for higher loads but upto height of lift of 8 mtrs. Motor driven trollies can be used for any load and any height of lift.
• The motor driven trolley would be the best solution if the hoist unit is required to move loads rapidly.
• The drive motor is of squirrel cage type with built-in-brake. The motor drives one or more of the trolley wheel's.
• Wherever there are limitations to the available head room (dimension H), short head room trolley can be supplied (refer figure IV above).

Note :-

• Development is a continuous process at 'HAFA', the Specifications & datas given in this catalogue are subject to change without prior notice.
• The minimum radius of curvature in the beam for our standard models of hoist is shown in the given specifications, special trollies for small radii can also be supplied. However the head room in such cases increases, which can be furnished separately.


DATA TO BE FURNISHED BY PURCHASER :-

• CAPACITY IN TONNES
• MAXIMUM HEIGHT OF LIFT REQUIRED IN METERS.
• DESIRED HOISTING SPEED IN MTRS. / MIN.
• TYPE OF HOIST MOUNTING (IF FIXED MOUNTED) 1. WIRE OUTLET 2. TYPE OF MOUNTING - A.B.C. OR D.
• TYPE OF TROLLEY (IF TROLLEY MOUNTED) 1. PUSH PULL TYPE 2. HAND CHAIN WHEEL DRIVEN 3. MOTOR DRIVEN
• MONORAIUBEAM SIZE. (IF EXISTING)
• HEAD ROOM-MIN HD ROOM DIMENSION PERMISSIBLE (DIMENSION 'H' IN OUR FIGURE)

A BRIEF DESCRIPTION OF THE WORK TO BE ACCOMPLISHED INDICATING THE NUMBER OF OPERATIONS PER HOUR.