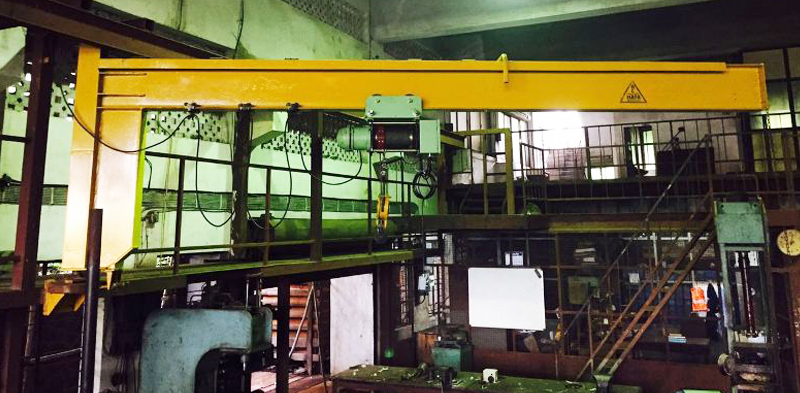 Normal Range of Our Products
01. Electric Wire Rope Hoists Regular / standard Models 500 Kgs to 50 Ton Capacity
02. Economy Model Hoists 250 Kgs to 100 Kgs Capacity
03. E.O.T. Cranes & Gantry Cranes upto 50 Ton Capacity
04. Jib Cranes - Self Supported Type / Wall Mounted Type
05. Power Winches / Goods Lifts.
06. Spare Parts for Conical Rotor Hoists

Brief Description About Ourselves & Our Products
We take pleasure to introduce ourselves as leading manufacturers of Electric Wire Rope Hoists & Cranes in the country.
We are a team of dynamic engineers backed by 30 years of direct experience in Design, Manufacture, Quality Control, Research & Development of Electric Wire Rope Hoists, E.O.T. Cranes and other Material Handling equipments.
Electric Wire Rope hoists manufactured by us incorporate all features unique to world renowned "MUNCK" make & HOIST-O-MECH Hoists. The conical rotor motor and 100% failsafe, electromechanical conical disc type brake is one of the most unique and salient features of our Hoists.
National giants Like M/S. ALFA-LAVAL, M/S. ASHOK LEYLAND, B.R.S.T, BALMER LAWRIE, BEST & CROMPTON, B.A.R.C. BHARAT FORGE, CROMPTON GREAVES, GODREJ & BOYCE MFG.CO., HINDUSTAN MACHINE TOOLS (HMT), INDIAN IRON & STEEL CO (IISCO), INDIAN ORDANCE FACTORY, KSB PUMPS, LARSON & TOUBRO LTD, MAHINDRA & MAHINDRA, MENON AND MENON, NATIONAL THERMAL POWER CORPORATION (NTPC), SPECIAL STEELS etc. etc. are among the long list of our valued customers, repeat order from these reputed clients is a proof of our quality and dependability.

ELECTRIC WIRE ROPE HOISTS - 0.5 TO 50 TONNES CAPACITY
1.0 - Conical Rotor Electric Wire Rope Hoists are manufactured in compliance to IS - 3938 / 1983. The electromechanical conical disc brake operated automatically by the conical motor itself eliminates the needs of an external electrically operated brake, thereby making the hoist 100 % failsafe, reliable robust, trouble free & maintenance free.
2.0 - These Hoists are made in capacities ranging from 0.5 Tonnes to 50 Tonnes having maximum height of lift of 100 Meters. The Hoist are available in :-
2.1 - Fixed Mounting Type Hoists
2.2 - Trolley mounting type Hoists ( To travel on monorail or double girder crane.)
2.2.1 - With Push Pull Trolley Hoists
2.2.2 - With Hand Chain Wheel Driven Trolley.
2.2.3 With Motorized Trolley.

3 - CRANES
3.1 - Electric Overhead Traveling ( E.O.T.) Cranes upto 50 Ton Capacity.
3.1.1 - Single Girder Type Crane
3.1.2 - Double Girder Type Crane
3.2 - JIB CRANES
3.2.1 - Wall Mounted Type Crane
3.2.2 - Self Supported Pillar Mounted Type.
3.3 - GANTRY CRANE ( GOLIATH CRANES ) UPTO 50 TON CAP.
3.3.1 Single Girder Type Gantry Crane
3.3.2 - Double Girder Type Gantry Crane

4. - POWER WINCHES AND GOODS LIFTS OR CAGE LIFTS. These are tailor-made equipments and are manufactured as per customer's specific requirement
5. - SPARES FOR HOIST-O-MECH MAKE ( HOMECH ) HOISTS.
QUALITY CONSCIOUSNESS AND CUSTOMER'S SATISFACTION IS OUR
MOTTO & WAY OF LIFE. LEADERSHIP THROUGH EXCELLENCE IS OUR DETERMINATION.

FIXED MOUNTING HOISTS
* These are available in all types of mounting e.g. floor mounted hoists, ceiling mounted hoists, wall mounted hoists, etc.
* All wire outlets and mounting positions can be together.
* They are used for loading and unloading transportation vehicles, through floor hatches or outside the wall, and for serving production machinery. They can be used for any pulling or lifting applications.
* When ordering, please state in what position the hoist is to be mounted and wire outlet ( WO ) required.

HOIST WITH TROLLEY :
* Hoist can be equipped with trolley for horizontal traveling.
* The trolley is fabricated from components bolted and welded together and carried by traveling wheels supported on ball bearings.
* Smaller loads can be moved with a push type trolley whilst the hand chain or motor driven trolley should be used for heavier loads.
* The motor driven trolley would be the best solution if the hoist unit is required to move loads rapidly.
* The drive motor is of squirrel cage type with built-in-brake. The motor drives one or more of the trolley wheels.
* Wherever there are limitations to the available head room ( dimension H ), short head room trolley can be supplied
(refer figure IV above).

Note :
* Specifications given in the catalogue are of our standard models of hoist. We can also supply hoist built specially to suit customers individual requirement.
* Development being a continuous process at ' HAFA ' the Specifications and the data given in this catalogue are subject to change without prior notice.
* The minimum radius of curvature in the beam for our standard models of hoist is shown in the given specifications, Special Trolleys for small radii can also be supplied.

DATA TO BE FURNISHED BY PURCHASER :
* CAPACITY IN TONNES
* MAXIMUM HEIGHT OF LIFT REQUIRED IN METERS
* DESIRED HOISTING SPEED IN METERS. / MIN.
* TYPE OF HOIST MOUNTING ( IF FIXED MOUNTED )
I) WIRE OUTLET II) TYPE OF MOUNTING - A.B.C. OR D

* TYPE OF TROLLEY (IF TROLLEY MOUNTED)
I) PUSH PULL TYPE II ) HAND CHAIN WHEEL DRIVEN III) MOTOR DRIVEN
* MONORAIL / BEAM SIZE.
* HEAD ROOM-MIN HD ROOM DIMENSION PERMISSIBLE ( DIMENSION 'H' IN OUR FIGURE )
* A BRIEF DESCRIPTION OF THE WORK TO BE ACCOMPLISHED INDICATING THE NUMBER OF OPERATIONS PER HOUR.