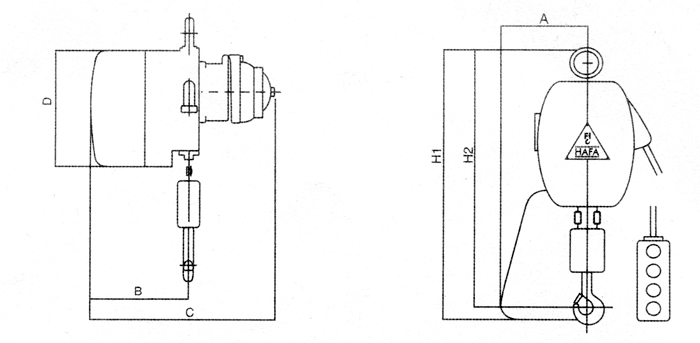 • Conical rotor, Squirrel Cage, 1 hr. Rated, Class 'F', Insulated crane duty motor.
• Electromechanical, Conical disc type, 100% failsafe maintenance free Brake, eliminates need of coil & thereby coil burning and down time problems.
• Easily portable because of compact design and low weight
• Wear-resistant, Heat-trated, Grade 80, Special alloy steel calibrated load chain.
• A special conical friction clutch housed inside the gearbox, protects the hoist against overloading. It also works as Emergency limit stop and protects overhoisting and over lowering
• Specially designed Chain guide enables Smooth, Jerkless, Free and Silent running of Chain over the Load Chai n sprocket
• TOTALLY ENCLOSED, BUILT-IN PANEL BOX containing Air Break contactors for Hoisting and Lowering motion and control transformer to get a Control voltage of 110 Volts IS AN INTEGRAL PART OF THE HOIST.
• All Gears are made of Carbon / Alloy steel, high precision cut, hardened and tempered, and are mounted on antifriction bearings.
• Hoist is supplied with a pendant push button station and a two mtrs. Long pendant cable. Additional cable lengths are available on request.
• Hoist is supplied with a 3 mtrs. Long power supply cable. Extra length can be supplied on request.
• Hoist is supplied with Chain for three mtrs. Height of lift. Additional chain can be provided for higher height of lift, on request.